×
RTV-X Series Kubota
A farmer with a tractor may wonder why getting a small utility vehicle would be worthwhile, but as many growers are learning, these versatile little units are fast becoming a farmer's best friend.
The RTV and RTV-X lineup of utility vehicles, for example, has become a huge seller for Kubota Canada simply because they do a lot of things better and more easily than a tractor.
"A utility vehicle will always compliment a tractor but should be seen as a "swiss army knife," says Kubota Marketing Specialist Jill Kleovolous.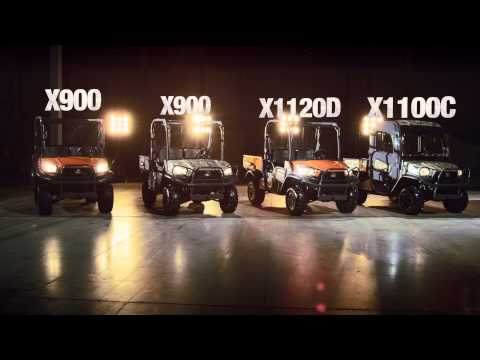 RTV-X Video
The RTVs are tough, powerful, but very small and this gives them abilities a tractor just doesn't have.
"For tractors, operating in confined spaces can prove to be daunting, so having an RTV on site can help you get in and out of tight spots while hauling a large load," Kleovolous says. Some versions of the RTV have a payload of 730 kilograms, and can tow a 590 kilogram load, so despite their small size, they can do some big jobs.
As well, growers never know where they're going to need to work on a fence or some trellising, so having electrical power out in the field is incredibly convenient. The RTV is like a generator on wheels, making it simple to work anywhere, any time.
"With the growing interest in hand tools, like drills or handsaws, our utility vehicles offer the ability to run these types of products," Kleovolous says. "We understand the customer needs, and we set out to build a very versatile line-up to fill those needs."
If you needed another reason to look at an RTV, there is the fact that all work and no play makes Farmer Jack a dull boy. RTVs are great for work, but with their wider stance and better stability, they're a safer version of an All Terrain Vehicle (ATV) that's great for getting out on wilderness trails.
The RTV is also quite a different beast than most ATVs or utility vehicles. Kubota made these machines primarily with growers in mind, so they have a lot of functions other machines don't have like hydraulic steering, hydraulic cargo bed dumping, and a fuel effi
RTV-X Series Line-up
cient, Tier 4 compliant diesel engine.
This last year the Kubota lineup was expanded with the new , which adds several new features.
Kleovolous says the RTV-X was completely overhauled from its predecessor, and the changes are reflected in its rugged styling, with a robust front guard, truck-like detailing and structured headlights. There's more room all around, 60/40 split bench seats with an adjustable driver side seat, and Kubota added tilt and power steering.
The biggest change was in the suspension, where Kubota added front and rear independent suspension with adjustable struts and a limited slip differential in front, making the RTV-X a true 4WD vehicle.
The ground clearance was increased to a log-hopping 10 inches, and full skid plates and CV joint protection give the RTV-X the ability to tackle the toughest terrain.
Click here to find a dealer near you and join the Kubota family.